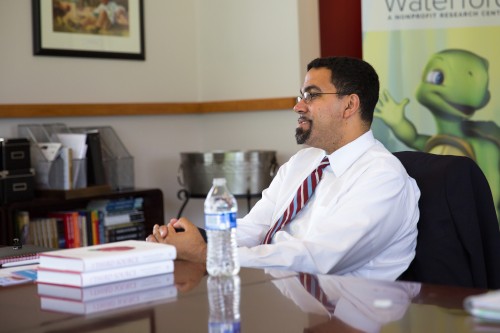 A U.S. Department of Education official recently visited Waterford to discuss UPSTART, our in-home, technology-delivered kindergarten readiness program that–with the aid of a federal grant–is being studied for its effectiveness in rural areas of Utah.
John B. King Jr., senior advisor delegated duties of deputy secretary of education, said UPSTART is one positive way to support early learning experiences for children. "We should maximize opportunities for kids to try to go to high quality PreK as much as possible wherever they are, and where kids don't have that opportunity, we should do more to try to support their learning, and this is one vehicle to do that," King said of UPSTART.
Waterford received an i3 (Invest In Innovation Fund) grant in 2013 to study UPSTART's impact in Utah's 18 most rural school districts. About 1,000 rural students completed the program last year. That's in addition to another approximately 5,000 PreK-age students who already use UPSTART in Utah, where the state has funded the in-home preschool program for families since 2008.
Our President and COO Benjamin Heuston told King he is continually exploring ways to deliver UPSTART to more kids. South Carolina has launched a pilot UPSTART project, and Idaho is also considering a similar project. Heuston said he hoped federal policies could allow UPSTART to be expanded as a PreK resource in other regions.
"I'm trying to figure out how to take this to other places. There are children whose needs are not being fully addressed," Heuston said. He also noted that the program can be funded for far less per child than the minimum state funding for many preschool programs.
With UPSTART, parents have their four-year olds use the preschool program for 15 minutes a day, five days a week. Outside evaluations indicate that kids who complete the UPSTART program will enter kindergarten ready to leave kindergarten.
"Washington is looking for models that work," Heuston later said. "We come with a complete solution that children can do quietly in a self-paced way. That's really valuable."