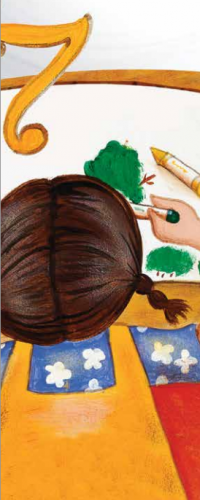 The National Conference of State Legislatures (NCSL) recently weighed in on the importance of preschool with an article called "Preschool is for Real," which features Waterford's UPSTART program as one innovative example of early education efforts.
The article discusses how brain researchers and developmental psychologists continue to discover more findings that support how critical the early years of a child's life are for brain development. During these early years, it says "the most rapid proliferation of new neural connections occur. These connections provide a foundation on which to learn and grow, and to be physically and mentally healthy."
Furthermore, research has found that there is a significant achievement gap between low-income children and their wealthier peers. One of the reasons for this is that parents and children tend to interact differently based on their socio-economic backgrounds. These differences in interaction have a huge impact on children's vocabulary and language skills. The article refers to a study that was conducted by Betty Hart and Todd Risley at the University of Kansas. In this study, "researchers calculated that by age 4 the wealthier children heard 30 million more words spoken than their lower-income peers."
When children enter kindergarten behind it has a great affect on their future academic and workforce success. In fact, after studying 22,000 children through fifth grade, the Institute of Education Sciences found that the children that start school behind rarely get ahead.
In 2008, Utah started experimenting with ways to address growing problems with school readiness by implementing a digital in-home preschool program called UPSTART (a Waterford Institute program). "As part of the program, a learning coach contacts families on a weekly basis in English or Spanish to help monitor and improve the child's progress. Statistics show that, regardless of their ethnicity or socio-economic status, children in the program are making gains in school readiness skills," writes the author.
Read the entire "Preschool is for Real" article to learn more about the importance of preschool and what other states are doing to close the achievement gap.
=================================
For additional information about Waterford Institute's Utah UPSTART program visit www.WaterfordUpstart.org. We are currently accepting pre-registration for children that will be entering kindergarten in the 2017 school year.