As part of our back-to-school updates, we're excited to share our brand new Waterford Help website!
The new help site brings support for all of our products to one, easy-to-use website. It's mobile-friendly, which allows for easy viewing on phones and tablets, and features improved search tools to help you quickly and easily find the info you need.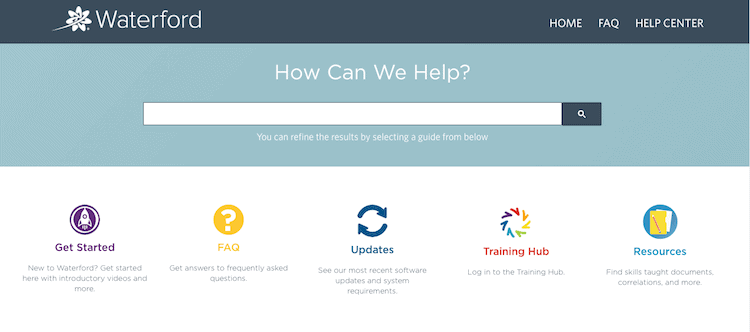 You can also find answers to common problems in our FAQ section, read announcements and tech notes, and browse and download offline resources. Help Guides give you step-by-step instructions and updated video tutorials on topics like using reports, getting started, home access, and more!
Have something on the old site you want to save, or that's missing on the new site? Don't worry. We're still developing and adding to this new site, so the previous help sites will stay available until all content has been updated and moved to the new site.
And, as always, we welcome your feedback! Check out the new site and let us know what you think. We hope you'll find it to be a valuable, convenient tool that makes using Waterford even easier and helps you get the most out of your Waterford curriculum.