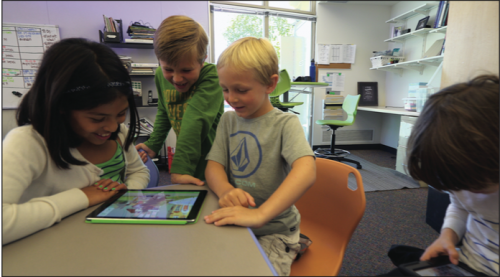 eSchool News just released a special publisher's report on using iPads effectively in the early grades that features Waterford and two districts that use Waterford curriculum, North Carolina's Lenoir County Schools and Prince George's County Public Schools in Maryland!
Many educators say they are using iPads more often in the early grades, for a number of reasons. The report covers these reasons as well as how iPads might help identify learning gaps early, recommendations for successfully implementing iPad initiatives, and innovative ways districts like Lenoir County and Prince George's are using iPads in the classroom.
A snippet from the report:
For one thing, very young students aren't doing as much writing, so having a keyboard isn't as important for them as it is in the later grades. Also, younger children are very tactile learners, and the iPad's touch interface is a natural fit for these students.

"iPads are just more intuitive for young children," said Benjamin Heuston, president of the nonprofit Waterford Institute, which develops early learning software for preschool through second-grade students. "Children are hands-on learners, and they want to experience and grab things."

A mouse isn't as intuitive for young children to use, he said.

In its computer-based software, Waterford has included an activity that helps young children learn how to use a mouse and interact with the program appropriately. This year, Waterford has introduced a new iPad version of its software, and Heuston said, such a tutorial will not be necessary for the iPad version. "Children will just naturally be able to pick it up and work with it effectively," he said.

He added: "Anything you can do to reduce barriers to technology use is a good thing. You don't want technology to get in the way of instruction; you want it to be so transparent that children are focused on the learning, and not on how it is happening. I think iPads have done a very nice job of that."
You can read or download a full version of the report here!