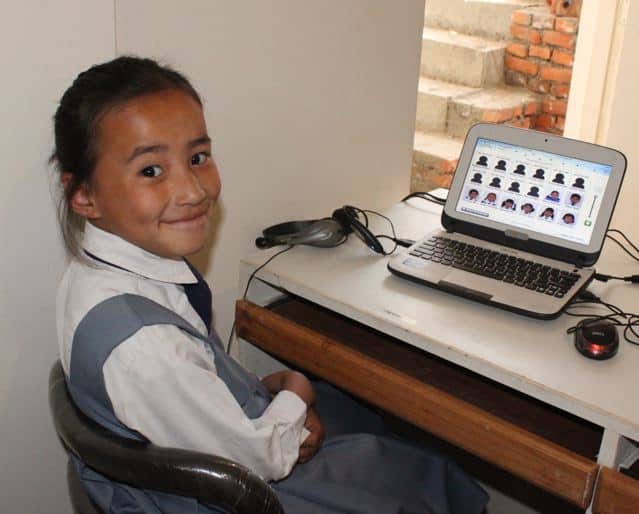 Hands in Outreach (HIO), a nonprofit educational sponsorship program for impoverished children in Nepal, is working with Lalitpur Madhyamik Vidyalaya (LMV) school to build a new elementary school. A new computer lab — built with the help of the Intel Education Service Corps and equipped with Waterford Institute's adaptive, early learning curriculum — is a critical part of that project.
The Challenge
Students at the LMV school in Nepal had limited access to English language education, and because of their own lack of English skills, teachers at the school felt uncomfortable teaching students. There were also no technology resources for students. But at a school where most students are under-resourced, HIO realized English and technology access could mean opportunity.
"We want to use technology as a catalyst to improve English language learning," HIO's Director Ricky Bernstein said. "English is the curriculum language and language of commerce, but it's not the language many students hear and use at home in Nepal. It's really a leg up for these kids to be able to speak English better."
And HIO was especially concerned about the well-being of the school's female students.
In Nepal, girls typically have less access to educational resources and opportunities than their male peers, making them 22% less likely to be literate, according to nonprofit reports. For this reason, HIO sponsors under-resourced girls and young women, paying their school costs in hopes of helping them become independent, self-reliant citizens. Most of the families HIO sponsors are headed by single, illiterate mothers who earn on average about $250 per year working as laborers and domestic helpers. Their daughters are often the first in their family to go to school.
The Solution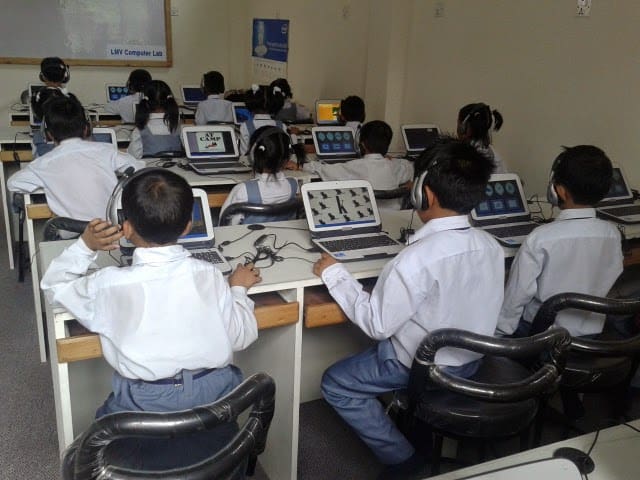 To help make the LMV computer lab a reality, HIO applied to work with the Intel Education Service Corps (IESC). IESC sends Intel employees from all over the world to developing countries to work with non-governmental organizations to support the deployment of Intel Education Solutions for disadvantaged children.
Intel believes that technology can be instrumental in advancing student success around the world. To support the LMV school and HIO, five Intel employees from Folsom, California with outstanding technical and training skills spent an estimated 200 hours each to prepare and deliver a two-week training program in Kathmandu for the teachers and students of LMV. The team also helped set up the new computer lab, troubleshoot technical issues and plan for the long-term sustainability of the program.
LMV's students will use Waterford Early Learning's reading program, a computer-based complete language arts curriculum for young learners. Starting with the basics, Waterford's reading curriculum adapts automatically to give each student a learning experience that's focused on his or her exact needs — making it ideal for all levels, especially for students learning English as a second language.
To track the success of the project, Waterford will help HIO use reporting tools to assess student's progress and the overall efficacy of the program.
"Students are so excited about their new computer lab and Waterford," Bernstein said. "And we're thrilled to watch how the curriculum will help them progress and, ultimately, hopefully help open doors."