Data makes the biggest difference when it's in the hands of knowledgeable educators like you. That's why we're so excited to announce our new dashboards feature today! Dashboards mean less time collecting and organizing data, more time using it to affect real change.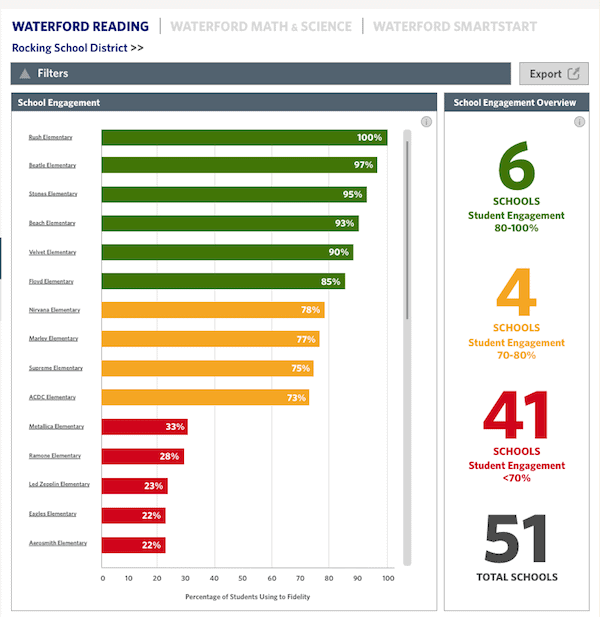 Waterford's new dashboards make it quick and easy to get real-time insights into student progress at the individual, class, school and district level. This new tool is part of today's product release, and will be rolled out district-by-district over the next month. You will see it appear in your Waterford Manager soon.
With Waterford dashboards, you can:
Complete reports in a fraction of time
Get quick, clear overviews of district and school usage and performance, or click to go deeper and identify class and student progress and key areas to target.
Set goals and monitor progress
Set custom district goals for each grade level and curriculum, and use Waterford dashboards to track each school, class and student's actual progress toward those goals.
Inform your intervention efforts
Quickly identify which classes or schools are having trouble keeping up with district goals, and spot students early who are in need of intervention. Dashboards help you pinpoint exactly which groups or individuals need help and where they need it.
Read the release notes to learn about all of the exciting features in this release. For more information on the data each dashboard includes and how to use it, visit this Help Site guide.
Register Now! "Big Data, Little Learners" Webinar
Want to learn more about how you can use Waterford dashboards to save time and benefit students? Join one of our free webinars on Monday, April 3 at 9:30 a.m. or 1:30 p.m. MDT! In just 30 minutes, you'll get an overview of all the data available in this new tool and helpful tips for how to best use it. (Get the recording of this webinar here.)