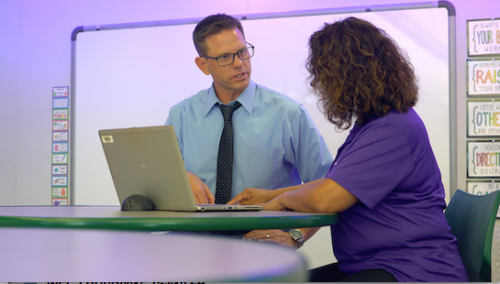 Tom Daccord, director of EdTechTeacher, a professional learning organization, recently wrote an essay titled, "Why your tech PD might be all wrong," about the shortcomings he sees in professional development for teachers.
"As I look back on the summer, one of the things that strikes me is how often my workshop(s) followed a "technology training"at a school. In other words, faculty had already received tech training on the particular platform, device or tool I was asked to address…Often, the school administrator would explain the reason for my workshop like this: "Well, the company came in and showed us the product, but the teachers don't understand how and why to teach with it."
Daccord goes on to argue that tech training must go beyond how to use a specific device or tool; instead, it should offer a meaningful pedagogical framework and help teachers understand how that tool will help achieve their educational goals.
We couldn't agree more. That's why Waterford's professional development services go beyond teacher and product training to include coaching, modeling and customized services.
Waterford's professional development is based on current research in adult learning as well as the work of the National Staff Development Council. Every Waterford session presents clearly defined learning targets, goals and measurable outcomes for staff and for students. Professional learning experiences also include these four critical, research-based elements (Joyce and Showers, 2002):
Presentation of theory and research
Modeling of best practices
Practice with feedback
Follow-up and coaching
We believe these practices help teachers understand how to use Waterford and, more importantly, how to use it to reach their most important learning goals.