By 2020, it is estimated that the U.S. economy will need 123 million American workers with a STEM background. However, it is estimated that only 50 million people will be qualified for jobs in STEM. The shift in curriculum is happening rapidly to give students to a chance to explore opportunities in hopes that the gap will narrow with this strong demand.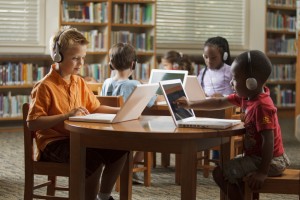 Early science, technology, engineering and math have always played a critical role in Waterford curriculum. Did you know that Waterford was one of the first early learning programs in the world to put children on computers? Since the late 1970s, putting technology into the hands of children has been a very rewarding pursuit.
A STEM foundation for young children begins with engaging their imaginations in creative ways through activities, games, books, songs and toys. Here are some examples:
GoldieBlox: These construction toys are on a mission to inspire young innovators, with hopes to help build an interest in science, technology, engineering, and math at an early age.

Waterford Early Math and Science: Waterford Early Learning's math and science instruction is tailored to each young learner's individual needs. Through songs, books, and activities, kids build a love for learning all things STEM.

Play-i: These delightful, toy robots bring play and programming together for kids of all ages. Through hands-on problem solving, they teach the basics of computer science– wow!
Sure, these activities and games are cute, but the technology behind them is also increasingly important to give to young children. Why you ask?
Stay tuned for my next post where I'll share three reasons why young minds should be introduced to STEM subjects through technology.