Albert Einstein once said, "The only source of knowledge is experience," so when the Bill and Melinda Gates foundation sought to find what educators want from digital instructional tools, it only made sense to go to those with the experience: teachers. After all, "no one knows teaching like teachers do."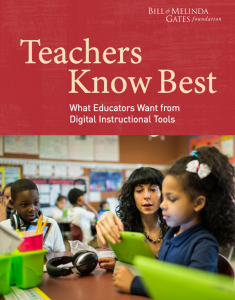 In the study, they asked more than 3,100 educators what types of digital instruction tools are essential to help students prepare for college and 21st century careers. They broke the study down into four specific areas, one of them being what teachers want and need from these tools.
Here are just a few findings:
Digital tools that deliver instruction directly to students, diagnose learning needs, vary the delivery method of instruction, tailor to each individual student needs, support student collaboration, and foster independent practice of specific skills are the most useful.
Teachers prefer tools that align with the Common Core, Next Generation Science Standards, and/or their own lesson plans; this was the most-cited benefit requested by teachers.

Teachers can identify specific standards for which they have instructional resources and those for which they do not.

The four areas with the greatest need of digital instructional resources, sufficient to teach the standards, are the following:

Elementary school English language arts (grades K—5)

High school math (grades 9—12)

Middle school social studies (grades 6—8)

All grade levels in science (grades K—12)
We were excited to see this feedback mirrors what we often hear from teachers around the country, and supports the efforts we've made to align our Waterford Early Learning curricula to those needs, including aligning curriculum to Common Core, having independent and group practice options, tailoring content to each specific learner and more. We also see it as a challenge to continue to strive to meet teacher's ever-evolving needs.