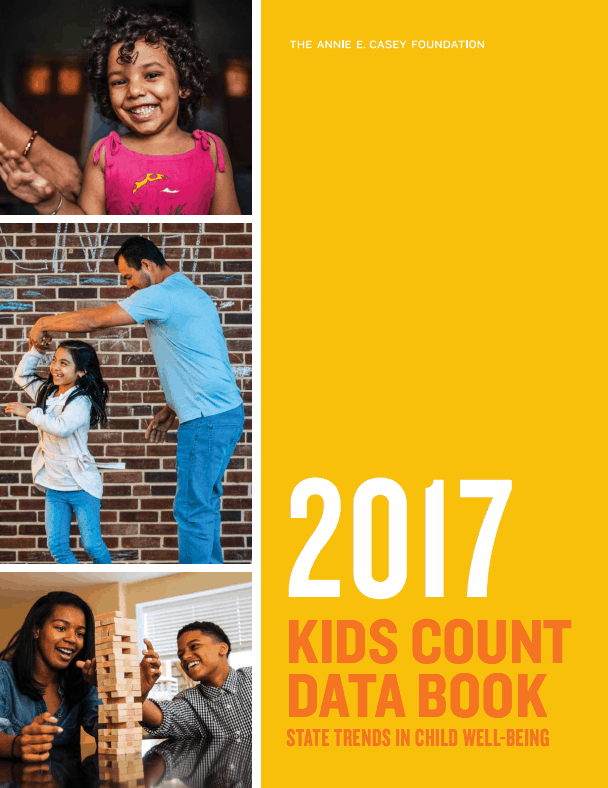 A recent report suggests that U.S. children are currently healthier, more academically successful and more prepared to contribute to the future of the nation's economy—but that there is still room for improvement.
Last month, the Annie E. Casey Foundation released its 2017 KIDS COUNT Data Book; this year's report combined data from economic well-being, education, health, and family and community and ranked the results according to state.
Overall well-being of U.S. children
States that were ranked among the top five for overall child well-being included New Hampshire, Iowa, Massachusetts, Minnesota, and Vermont, while the lowest ranked states included Mississippi, New Mexico, Louisiana, Nevada, and Arizona.
Positive findings included:
● A significant increase of children with health insurance
● Increase in reading proficiency
● More likely to graduate from high school
Economic incentives for families led to tax credits and more job opportunities to help reduce poverty among families. But child poverty rates remain high and more families live in neighborhoods with a high concentration of poverty. Nationally, the percentage of children in families living below the federal poverty line was 21 percent, and 14 percent of children lived in areas where poverty rates were at or above 30 percent. This is especially pronounced in the South and Southwest where four states—Arizona, Louisiana, Mississippi, New Mexico—had 20 percent or more of their children living in high-poverty areas.
Laura Speer, associate director of policy reform and advocacy for the Annie E. Casey Foundation, said in a press release, "The U.S. continues to have one of the highest child poverty rates among all developed countries. This unfairly burdens our young people and the nation, costing an estimated $500 billion a year in reduced economic opportunities and increased health and criminal justice-related costs."
And, despite the rise in high school completion rates, academic gains among children fell. From the report: "Sixty-eight percent of eighth graders scored below proficient in math in 2015, up from 2009. Nearly two in three students in fourth grade lack reading proficiency. Attendance for prekindergarten programs for 3- and 4-year-olds remains stagnant, with 53 percent not accessing these beneficial services."
Moving forward to support U.S. children
The Casey Foundation suggested policymakers address three main points in the 2017 KIDS COUNT Data Book to improve outcomes for children.
● Maintain health care programs and remove systemic barriers that prevent families from enrolling children in health care.
● Invest in early childhood education programs at local, state and federal levels.
● Expand programs that offer economic stability for families and help low-income families meet basic needs.
Researchers from the KIDS Count project urge policymakers to remain invested in helping U.S. children to have the opportunity to reach their potential and be prepared to contribute to the nation's economy as adults in the future.
The full report is available to see state-by-state results at 2017 KIDS COUNT Data Book.