The Organization for Economic Cooperation and Development (OECD) recently released results from their reading, math and science test, which is administered to 15-year-olds in 34 countries around the globe every three years. The results for the United States are discouraging.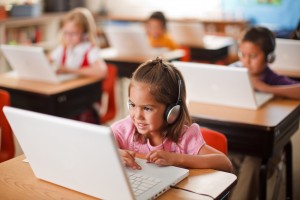 The U.S. not only lagged behind other countries, but also dropped in rank from 2009. Pulling in at 21st for science, the United States fell from a ranking of 17th place. We also fell to 17th in reading from 14th in 2009.
But not all is lost! Studies show that early learning, especially preschool, can improve test scores in the future. Test-takers who participated in OECD's test who had previously taken preschool did better than kids who had had no preschool prior to entering kindergarten.
According to the Washington Post:
"In the majority of OECD countries, more than three quarters (79%) of 4-year olds are enrolled in early childhood education programs. And according to the report on 2012 [Program for International Assessment] scores released last week, across OECD countries, students who attended early childhood programs performed better–a full year ahead of their peers."(Emphasis added.)
At Waterford Institute we are poised to prepare children not only for successful test taking, but also for subsequent success in classes, careers, and life.
Three of our products are currently used with 4-year-olds around the world and are proven to help them learn to read and get a jumpstart on math and science – all three categories tested in OECD's assessments. Waterford Early Learning can be used for advanced 4-year-olds, while Waterford UPSTART and Waterford Pre-K are specifically designed to develop critical preschool skills.
These Waterford Early Learning programs also help to close the word gap, which has a negative impact on children's ability to learn anything successfully, not only reading. With early intervention and involvement of parents and educators, children in the U.S. can hope to make gains in our educational presence in the world.
For more information contact us.