An annual report released this week by the National Institute for Early Education Research was a mixed bag for the current landscape of state-funded preschool in the U.S.
The good news: The 2013-2014 school year was the second year in a row that state PreK funding grew, with an increase of about $116 million. Enrollment also grew by 8,535 children, bringing the total enrollment to more than 1.3 million children attending state-funded preschool last year. And five states met all 10 of the institute's quality benchmarks, measuring for things like class size and teacher training.
The not-so-good news: That's just 29 percent of the nation's 4-year-olds (including federally-funded Head Start that jumps to about 40 percent), and $1,000 per child below where funding was a decade ago, before the recession. Five states met fewer than half of the quality benchmarks.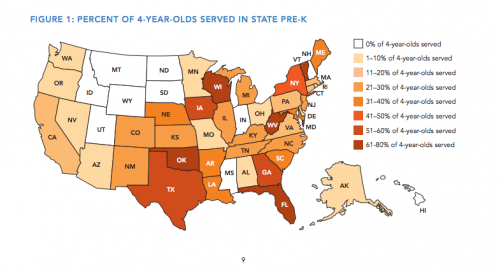 Report authors applauded states for new spending and expansion, but also advised that the current rate of growth is too slow to supply meaningful changes for children.
"If PreK is to be made available to even all children under 200 percent of the poverty level within the next 20 years, state investments will have to grow at a much faster pace. At [this] rate it would take about 75 years for states to reach 50 percent enrollment at age 4 and 150 years to reach 70 percent enrollment."
Some other notable findings from the report included:
15 states could be verified as providing enough funding per-child to meet all 10 benchmarks for quality standards. The vast majority of children are served where funding may be inadequate to provide quality education.
7 programs were able to make an improvement in their quality standards and gained against NIEER's Quality Standards Benchmarks checklist.
5 states met fewer than half of the quality benchmarks, including California, Ohio, Vermont, Florida and Texas.
17 states increased enrollment, the smallest increase being 1 percent in Nevada and the largest being 63 percent in Rhode Island.
16 states reduced enrollment, from 1 percent in Arkansas, Illinois, Louisiana, Kentucky and Texas to 16 percent in Alaska.
5 states (now including Mississippi) plus one of Louisiana's three programs continue to meet all 10 benchmarks for state PreK quality standards. 17 states met 8 or more.
9 states offered no state-funded PreK last year.
More than half a million children, or 40 percent of nationwide enrollment, were served in programs that met fewer than half of the quality standards benchmarks.
To read the entire report, click here.