As the COVID-19 pandemic continues to progress, many classrooms remain online in some capacity. Now is a particularly helpful time to consider implementing blended or hybrid learning, two strategies that allow for independent or remote learning.
We've put together a quick primer on what blended and hybrid learning strategies are and why they might have a place in your classroom. Then, discover five ways to boost student-centered learning through blended or hybrid learning.
What Are Blended Learning and Hybrid Learning?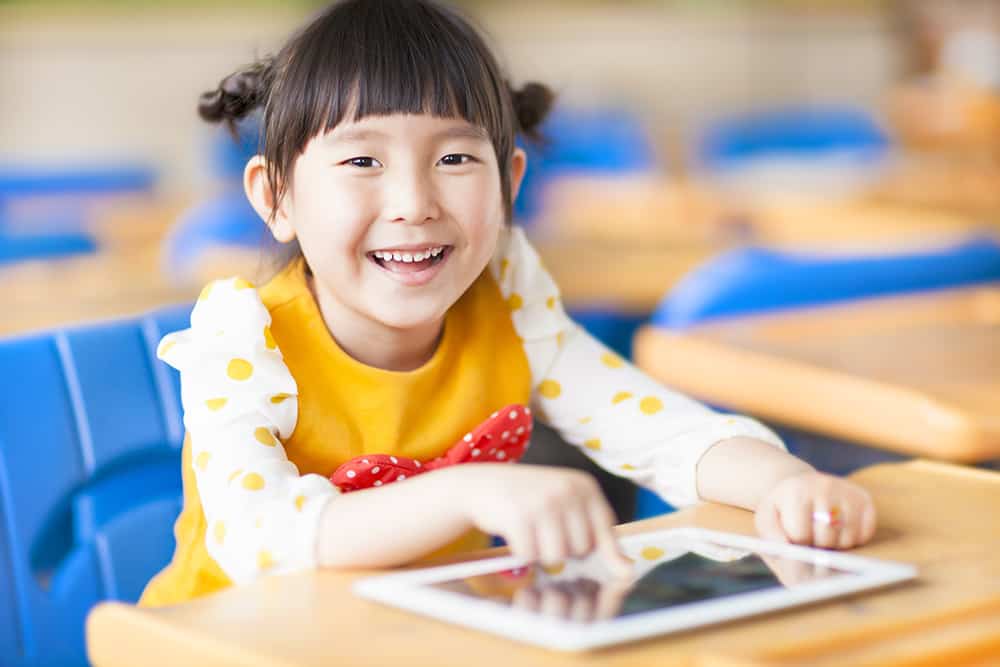 Before we explain the differences between blended and hybrid learning models, let's provide a quick definition of each strategy.
Blended learning is a curriculum approach that offers students teacher-supervised and independent learning opportunities.[4] These opportunities are personalized to a student's unique needs to give them time to explore their needs and interests. Blended learning often involves an online component; however, it is not a necessary part of the approach.[1]
Hybrid learning is a classroom strategy that includes both online and in-person instruction.[7] The distribution of classroom and remote learning time is not necessarily equal in this strategy and may include more of one or the other.
Sound similar? In many ways, these strategies mirror each other and involve some overlap. But their distinctions are important to note so you can choose the right approach for your classroom.
Blended Learning vs. Hybrid Learning
As mentioned earlier, blended learning and hybrid learning are often used as interchangeable terms. There are, however, a few distinctions between the educational strategies that are important to note.
First, let's note the one key similarity. Both methods, while somewhat different in their approach, include student-centered learning in some capacity. Student-centered learning is here defined as curriculum and assignments that focus on a student's unique needs and goals.[13] Usually, these projects are completed by individual students rather than by a group or class.
As for the differences? Blended learning includes a mix of whole-class and student-centered learning. Unlike hybrid learning, the method of student-centered learning is not specified. It could involve digital media as well as offline resources like classroom makerspaces or library books.
Hybrid learning, however, must include both classroom and remote learning. The method of the student-centered learning is therefore set in hybrid learning. In this way, hybrid learning can be considered a subset of blended learning.
Why Use Blended and Hybrid Learning?
Blended and hybrid classrooms both lead to personalized assignments, a technique that can lead to more effective learning. Personalized learning is better centered around the student's needs. As the students spend more time on concepts where they need the most practice, they're more likely to master them over time.[4]
Flexibility is another strong benefit of blended learning.[9] Student-centered assignments can be completed at a student's own pace rather than at the pace of the entire classroom. This means that students can work at a rate that is most comfortable for them, which is useful for all learners.[11]
Additionally, many of today's students are digital natives. This means that they grew up using tools like the Internet and smartphones from a young age. Most students are comfortable with online environments, and including distance learning assignments with some digital elements can be a helpful way to connect with them.[7]
In a nutshell, what are the benefits of blended and hybrid learning?
Personalized assignments
Flexibility with pace and timing
Better able to meet the needs of all students
Stronger connection to digital natives
How to Promote Student-Centered Learning in Class
Whether you're using a blended or hybrid curriculum, student-centered learning can give your students flexibility while focusing on the concepts they need the most help with. These five tips will help you create a student-centered approach:
Transparent communication is essential for blended learning, especially for student-centered assignments.[2] Make a student's assignments clear and answer any questions students or families might have to avoid misunderstandings.
Give students some control over pace and timing for their assignments.[8] For example, if a student would prefer to complete a student-directed assignment in the morning, consider adjusting their schedule accordingly.
Instead of assigning students all the same homework, include a few project-based assignments where students have some choice over the subject and method.[12] For example, if you're learning about the letter B, you could assign this project-based assignment.
Collaboration in blended learning environments leads to higher student satisfaction.[3] Even if they are not meeting in person, you can provide students opportunities, such as online discussions, to collaborate.
Consider how the physical and online learning spaces can complement each other.[9] By using the strengths of both, you can create a learning environment with the best of both elements.
Sources:
Staker, H., and Horn, M.B. Classifying K-12 Blended Learning. Retrieved from eric.ed.gov: https://files.eric.ed.gov/fulltext/ED535180.pdf.
Heinze, A., and Procter, C.T. Reflections on the use of blended learning. Retrieved from salford.ac.uk: usir.salford.ac.uk/id/eprint/1658/1/4247745025H__CP_-_paper9_5.pdf
So, H., and Brush, T.A. Student perceptions of collaborative learning, social presence and satisfaction in a blended learning environment: Relationships and critical factors. Computers & Education, August 2008, 51(1), pp. 318-336.
Horn, M.B., and Staker, H. The Rise of K-12 Blended Learning. Retrieved from aurora-institute.org: https://aurora-institute.org/wp-content/uploads/The-Rise-of-K-12-Blended-Learning.pdf
Mackay, S. & Stockport, G.J. Blended Learning, Classroom and E-Learning. September 2006, Business Review Cambridge, 5(1).
UNC Charlotte Center for Teaching and Learning Staff. Blended & Hybrid Learning. Retrieved from uncc.edu: https://teaching.uncc.edu/teaching-guides/blended-hybrid-learning
Gallardo-Echenique, E.E., Marqués-Molías, L., Bullen, M., and Strijbos, J. Let's Talk about Digital Learners in the Digital Era. Retrieved from eric.ed.gov: https://files.eric.ed.gov/fulltext/EJ1067883.pdf
O'Byrne, W.I., Pytash, K.E. Hybrid and Blended Learning: Modifying Pedagogy Across Path, Pace, Time, and Place. Journal of Adolescent & Adult Literacy, 2015, 59(2), pp. 137-140.
Northern Illinois University Center for Innovative Teaching and Learning Staff. Blended and Distance Learning. Retrieved from niu.edu: https://www.niu.edu/citl/resources/guides/instructional-guide/blended-and-distance-learning.shtml.
University of Wisconsin-Madison Staff. Blended Learning Quotes. Retrieved from wisc.edu: https://blendedtoolkit.wisc.edu/what/quotes/
Lynch, M. 5 Major Benefits of Blended Learning. Retrieved from edweek.org: https://blogs.edweek.org/edweek/education_futures/2018/05/5_major_benefits_of_blended_learning.html
Loveless, B. Developing a Student-Centered Classroom. Retrieved from educationcorner.com: https://www.educationcorner.com/developing-a-student-centered-classroom.html
The Glossary of Education Reform Staff. Student-Centered Learning. Retrieved from edglossary.org: https://www.edglossary.org/student-centered-learning/.