Reading enjoyment is connected to reading behavior, reading motivation and reading skills—all of which are beneficial not only for reading proficiency and outcomes but also for wider learning. But while children are required to read in school, how many children actually enjoy reading? And how many maintain that enjoyment through their teenage years?
Children and adolescents reading for fun
The National Literacy Trust released a study detailing findings from its annual literacy survey, which surveyed more than 42,000 children between the ages of 8 and 18. It found that just 1 in 4 children ages 8 to 16 say they enjoy reading very much. And that overall, about 6 out of 10 children said they enjoyed reading very much or quite a lot.
The good news is that's higher than past years: Researchers say reported enjoyment levels have been rising since 2013, and that 2016 results were 14 percent higher than in 2005.
But there are significant differences among genders and age groups. Girls prefer to read more than boys, with 64.9 percent of girls overall enjoying reading either very much or quite a lot compared with 52.4 percent of boys. And younger students are more interested in reading than their older counterparts: Nearly twice as many children aged 8 to 11 than those aged 14 to 16 said that they enjoy reading (77.6 percent vs. 43.8 percent).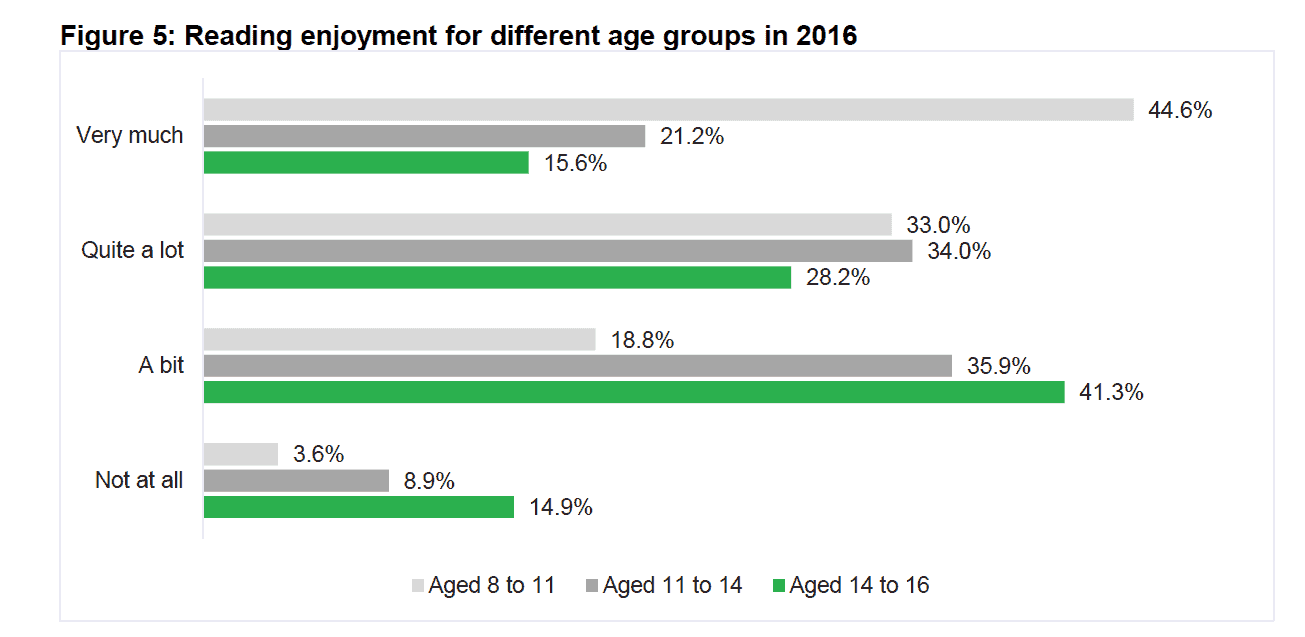 That supports findings from a poll by the National Education Association which found reading peaked in the middle years, with 56 percent of grade school students, 70 percent of middle school students, and 49 percent of high school students reading more than 10 books each year.
Why reading for fun is important
The benefits of reading are important not only to influence a child's success in school, but to develop greater real-world skills. Adolescents who read for fun are likely to be more confident readers and interested in reading a variety of subjects. They usually read each day and spend more time reading books rather than online materials.
Reading enjoyment is closely connected to reading proficiency in general, including specific skills like vocabulary development and text comprehension and grammar, and is also related to proficiency in mathematics. Furthermore, it helps increase understanding and knowledge of the world helping children develop analytical and problem solving skills that prepare them for real-world experiences.
Inspiring a child to find joy in reading
To help a child find joy in reading, four major themes can influence their decision to read on their own: choice, availability, safety and support, and creativity. Teachers and parents can ensure that each child has access to a variety of reading materials to strengthen their comprehension and problem solving skills while motivating their desire to read.
Children who read frequently will develop stronger reading skills for the future. By helping each child discover subjects and stories that interest them, teachers and parents can help foster a love of reading. This passion shouldn't be limited to just early learners, but reading for fun is important for children of all ages and as children grow in reading and comprehension, they will more easily enjoy developing skills that can help them in future professions and real-world experiences.