When used properly, technology can improve learning, teaching and the relationship between educators and parents, Dr. Libby Doggett, deputy assistant secretary of policy and early learning at the U.S. Department of Education, told a Utah audience last night.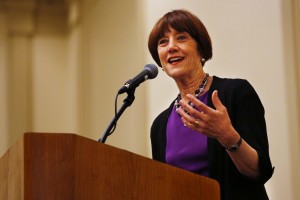 "Devices not only bring the world to our students …They can bring what children create to the world," she said.
Dr. Doggett was in Salt Lake City to present her talk "High Tech Tots: Opportunities and Challenges" as part of a town hall event we were proud to host. The event also included a panel discussion on early learning technology with Dr. Doggett, Waterford Institute President Benjamin Heuston, United Way of Utah County President Bill Hulterstrom, and Susan DeVenny, executive director of South Carolina's First Steps to School Readiness.
We're sending big thanks today to all our panel participants and audience members who made the event a success and contributed to a great discussion!
If you missed the event, there are several media stories that provide great recaps, including:
And stay tuned: We'll have full video of Dr. Doggett's presentation on the blog soon!