Focused on increasing the school readiness of under-resourced children and those living in rural areas, the UPSTART program is rigorously evaluated using a randomized control trial evaluation and has demonstrated consistently positive gains for students. Moreover, longitudinal data has been gathered from the Utah UPSTART legislation and measured against state averages to inform if the legislation had lasting effects.
After studying results from 7 years of implementation for the at-home school readiness solutions the state office of education found that students who experienced UPSTART as a family during the students' year before kindergarten, continually outperformed state averages in DIBELS and state testing in grades 1– 4. This result of outperformance carried across the overall population as well as special education (SPED), minority, low income, and English Learner (EL) data.
There are no "silver bullets" in education reform. But there are, of course, still important challenges to address.
So, where can educators and states go for answers? A group of legislators, legislative staff and educational researchers charged with creating a policy framework for how to meet the needs of the nation's youngest learners have some ideas that might help.
One of their model examples for improving education equity and access while addressing poverty and targeting services to specific populations: Waterford's UPSTART program.
"Innovations in virtual tools and blended models offer cost-effective and evidence-based options that empower parents in the home as first teachers, build cultural bridges, eliminate transportation costs, address language diversity, and expand parent choice," the report says. "With innovation and tenacity, these strategies are a means to reducing and eventually eliminating opportunity gaps and ensuring that every child is at the starting line of building a strong educational foundation and positive life trajectory."
What is SPREE?
In 2016, after the NCSL released its No Time to Lose report with an urgent call for reforming state education, they partnered with the Heising-Simons Foundation to form The State Policy and Research for Early Education (SPREE) Working Group.
SPREE was tasked with developing a bipartisan framework to guide and assist state policymakers as they work toward impactful outcomes for young children. The group has 16 members: a bipartisan composition of eight state legislators, two legislative staff and six early childhood education researchers and advocates.
SPREE spent the past year developing this framework, and presented today at the National Conference of State Legislatures (NCSL)'s annual Capitol Forum.
SPREE's goal? "…to respond to the complexities in early learning and propose an expanded variety of solutions designed to serve parents and children wherever they are, while supporting outstanding outcomes that ensure a strong continuum of effective education beginning with preschool continuing through third grade (P-3)."
As state policymakers and researchers, the group is in a unique position to find and review or produce education strategies to address issues like equity, the opportunity gap, school readiness and other complex birth-to-eight challenges.
What is the SPREE framework?
The SPREE framework is meant to provide information and research-based options that have consistently delivered results—not prescribe solutions, the group says. To start, the group designed a theory of change based on these guiding principles:
Equity as a central tenant that should guide all action
P-3 program quality
Governance
Family and community engagement
Educator preparation
Within each of these principles, the group outlines actionable strategies and existing state-level policies to help reform P-3 education and serve as models for discussion and action.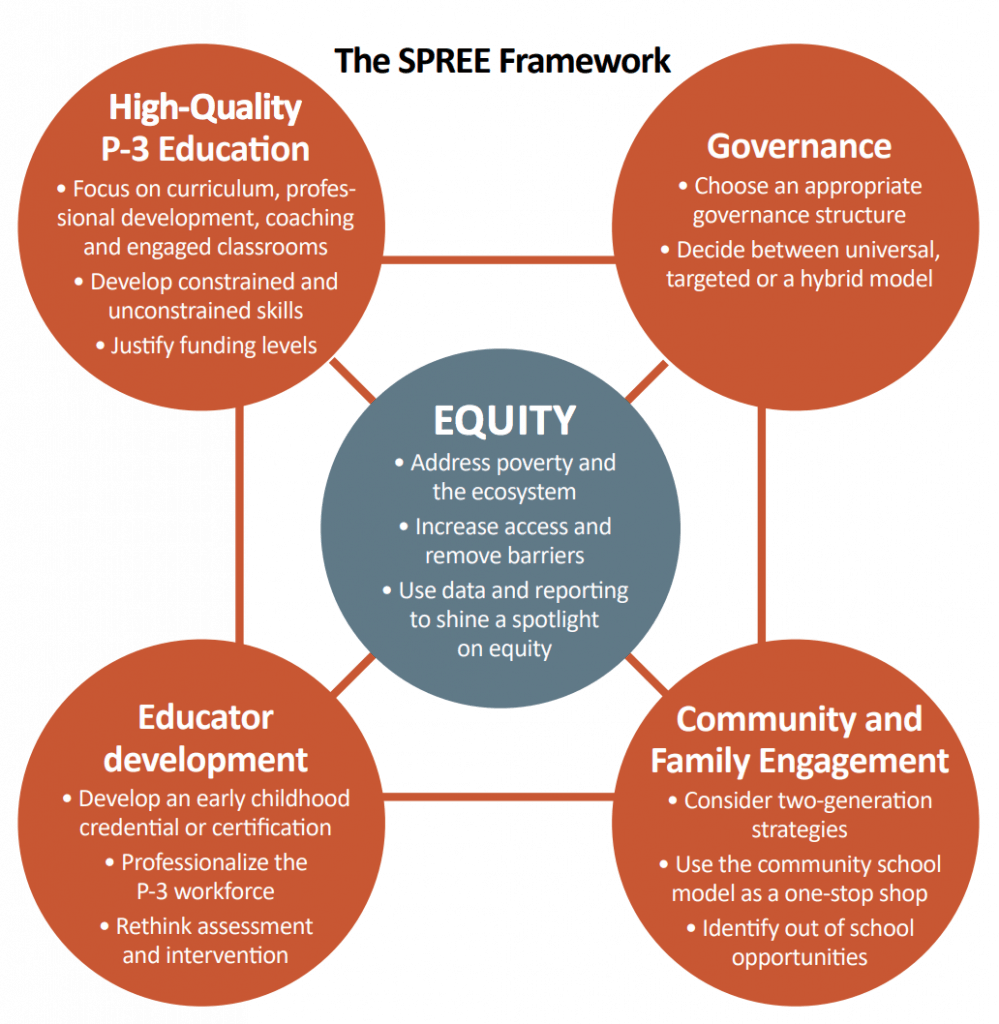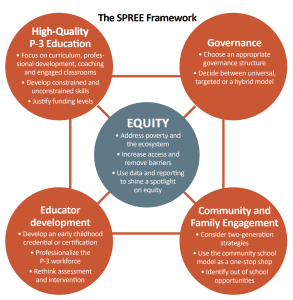 "It is the group's intention that State leaders will utilize this framework to identify a priority area of reform for design and implementation as part of a larger cohesive vision for P-3 education in their state," the report says. "The five principles in the SPREE framework seek to provide a set of strategies to enhance early learning outcomes and provide options that will fit a state's political context."
As more states consider implementing or refining early education systems, SPREE wanted to provide a clear theory of action and guiding framework to help legislators and legislative staffs make these policy decisions.
Highlights from the SPREE Report
While the report is wide-ranging (and worth a full read!), here are three highlights we wanted to call out. Each of these aligns strongly with the work we do with Waterford UPSTART and our other Waterford programs.
The importance of kindergarten readiness
Thanks to neuroscience we know that more than a million neural connections are formed every second in the first years of life, the report says. This also means that learning gaps are evident as early as 18 months, highlighting the need for policies and programs that reach children before they enter school and prepare them to enter ready to learn.
Still, despite the research evidence and increasing bipartisan support, state funding for early childhood education remains inconsistent and a topic of great debate.
"…just 28% of all preschools nationally have state Pre-K funding, though some of these states with limited or no state funded Pre-K, like Utah, are leading in other state-sponsored innovations for developing school readiness in the home (Waterford UPSTART)."
To reform early childhood education policy, we must address various "starting positions" for children and work to close gaps before they enter school.
Reaching children and families where they are
In these early years before school, it's especially important programs and policies recognize the role of parent choice and individual circumstance when trying to improve access.
From school-based PreK to private center-based options, home-based, small providers and family care, parents choose from a wide variety early learning settings. What's more, myriad other factors contribute to the quality and access to these opportunities, including geography (rural vs. urban), income, cultural reticence, primary language, and more.
Still, all these children—regardless of where they are or other circumstance—need to be prepared for school, highlighting the importance of creating different programs and policies to reach families wherever they are. Technology can be a transformative tool in helping to reach this goal.
Independent research shows our Waterford UPSTART program can improve child development in the home, reducing—even eliminating—opportunity and achievement gaps. "These research findings highlight the potential that early childhood education policy can have on improving school readiness, emphasizing the importance of improving supports in a variety of contexts—in homes, care centers, and classrooms—followed by solutions that support and maintain early gains as students enter kindergarten," the report says.
Involving parents in early education
We love that one of the report's fundamental tenants is looking for ways to improve family and community engagement. As a child's first teacher, parents and caregivers have an enormous impact on improving school readiness—but may need some support to get there.
The report encourages legislators to: consider two-generation strategies; use community schools as a one-stop shop; and identify out-of-school activities like UPSTART.
From the report:
"Some states, like Indiana and South Carolina, are modeling after Utah's UPSTART legislation and piloting new programs that blend robust parental support with virtual technologies for early childhood learning, using both in-person and remote strategies to engage parents with training to become more effective first teachers. This training helps parents learn more effective parent teaching behaviors, like increasing cognitive stimulation as they interact with their children and scaffolding children's activities to integrate foundational learning skills. Research shows that this type of early learning success helps establish lifelong attitudes for children and their families about learning and literacy and builds future learning resilience and persistence that is particularly powerful for low-income families."
______
Read the full report here. In the coming weeks, we'll further discuss and break down the framework's five primary tenants—stay tuned!