One of the most effective ways to supercharge your students' ability to learn, connect, and grow, all while managing your own workload, is to establish a routine in your classroom. But many classrooms look different this year.
This year, teachers are working to develop new routines that are effective for students no matter where they're learning. Research shows that routines make a difference for both children and adults, so it's important to build patterns for your school day that build structure and help you and your students know what to expect.
The Importance of a Routine
Most people naturally follow routines in their everyday or professional lives, whether we think about it much or not. Just look at a major league baseball batter going through all the same motions before every pitch. The same is true for educators and students.
Research has shown that routines are important for helping people manage stress and anxiety.[1] School-based routines offer children some sense of predictability and comfort to help ease those anxieties. Further, routines can help students lower their stress, form good habits, be more productive, and feel more focused.
Classroom routines and procedures benefit students by letting them know what they can expect, and what is expected of them. Routines also encourage students to learn greater responsibility and self-management.[7]
With the pandemic upending daily life, and harsh economic times affecting many families, the value of routines is even more evident in today's world. These uncertainties can be upsetting and stressful to students, harming their ability to concentrate and learn. A solid, predictable routine can help.
Creating a Routine to Help Students Learn
In your brick-and-mortar classroom, routines let your students know when to come and go, where to sit, when and how to complete assignments, and how to enter and leave the classroom.
This daily routine helps students focus on their learning, instead of being distracted by countless questions about what they should be doing and when they should be doing it.
To help distance learning students succeed, set up a structure that will help them feel at ease and familiar with their virtual classroom. You can help children know what's expected and when you're available for help by creating a consistent weekly schedule. Make it visually easy to understand, with clear instructions and deadlines.
An online routine should take into account that each student will have differences in their unique home learning environment. As you create routines, keep the following in mind:
Some students may have access to the latest technology and a supportive and stress-free home environment.
Other students may not have ideal access to the Internet.
Some families may have multiple children sharing one laptop.
Other children might have additional responsibilities at home, like looking after their younger siblings while their parents or guardians work.[8]
Setting Expectations for Remote Learning Students
When creating routines for your virtual classroom, aim for consistency and clarity. The National Institute for STEM Education (NISE) recommends teachers clearly post the routines and expectations for all students.[3]
One helpful way to set expectations is by sharing daily and weekly to-do lists with your students. These can cover things like:
What they will be learning
What tasks to complete
Content and materials needed
How to submit work
Consistency is key, especially at the beginning of a school year or the start of online learning. Be sure to do the same routines over and over so students can get used to them.
Ways to Use Routine to Manage Your Teacher Workload
An effective routine is vital for managing workloads for both teachers and students. But routines that work well to reduce workloads in real-world classrooms might not translate well to teaching online.
To keep things workable for both you and your remote students, it's helpful to develop a set of online-specific procedures aimed at making life smoother. For example, make sure students have meeting codes or links, passwords, and usernames easily available, perhaps on an index card mailed to students, or in an email sent to them and their parents. Encourage students to "arrive" early to online classes, and help them learn how to turn on microphones and cameras on their devices.[11]
The University of Virginia Center for Teaching Excellence has some more recommendations for handling workload in online classes.[9]
Consider what content your students need for success.
Keep a resource list you can update and reuse for future classes.
If you're creating your own content for students, create evergreen content that can be updated and reused as often as needed without changes. If you're making a video for students, avoid referencing current events, the weather, and so on. That way you can re-use the video as often as needed without taking the time to update it.
Create reusable student support resources.
Take notes on what works and what doesn't work throughout the semester so you can adjust your teaching strategies for the next term.
Be realistic about your goals.
Routines for Building Community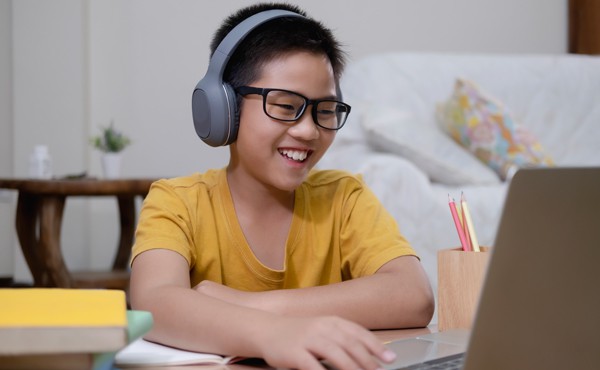 Physical classrooms naturally lead to a sense of community for students. It's harder to recreate those same community-building spaces and moments in an online classroom. Conscientiously scheduling opportunities for connection into your classroom routine online can help foster a sense of community.[5]
This could look like a regular live class video meeting, one-on-one check-ins, or hosting consistent and regular "office hours" where any student can come with questions—or just to talk.
Even quick check-ins with teachers can have positive effects on students, providing positive emotions that produce oxytocin, a hormone released during social bonding.[2]
Teachers should pay special attention to setting etiquette expectations, such as being respectful toward fellow students and the teacher. This comes more naturally in a physical classroom environment, so you may need to spend time establishing respectful routines for online learners. You'll also want to clearly communicate to students how to 'raise their hand' to ask a question during video conferencing and how to behave with other students or teachers when there's a disagreement.[3]
Routines for Classwork and Assignments
In the physical classroom, receiving instruction and getting assignments is easy for students. When making the transition to online learning, you and your students will both need to make adjustments.
It's helpful to think about an online routine in terms of the physical structure of a classroom. You might have an "area" for discussion, one for reading, and an area where they can pick up assignments.[6]
Whatever method you use for having students submit work, it's important to keep it consistent. Stick with that method throughout the school year unless technical issues force you to change.[4]
While addressing homework and instructions, NISE advises teachers to take extra care in making sure their instructions are crystal clear for students.[3] Keep language plain and use the same terms consistently. Be careful with colloquialisms, or words that could have multiple definitions.
Routines for a Work-Life Balance
Teachers should also be mindful of their own physical and mental health while working from home. Simple daily routines, like opening the blinds, making coffee, or taking a walk can help get the day started.[10] And at the end of the day, signal your brain that it's time to shut down. Simply shutting your laptop and putting it in a drawer can be a meaningful method of shifting from work life to home life.
If you've experienced the mental drain of being tied to work emails and messages 24/7, you know how important boundaries can be. Set designated times for checking emails and messages, and don't stray from that restriction.[10]
Sources: