There's no doubt early education is a hot topic right now.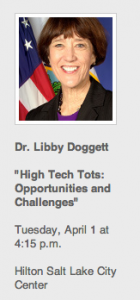 It's part of President Barack Obama's education agenda — so much so that he highlighted in January's State of the Union address. On a state level, funding early-childhood programs was a high-profile question before many legislators this session.
There's one woman who is part of many of these conversations: Dr. Libby Doggett, deputy assistant secretary of policy and early learning at the U.S. Department of Education. And now you can hear directly from one of the most influential early education advocates in the country!
Dr. Doggett will present "High Tech Tots: Opportunities and Challenges Tuesday, April 1 at 4:15 p.m. at the Hilton Salt Lake City Center downtown. Her presentation will be followed by a panel discussion with other early learning experts and an open Q&A session.
We're proud to sponsor this event, and have made it free and open to the public. However, seating is limited, so attendees will need to pre-register online to get a ticket.