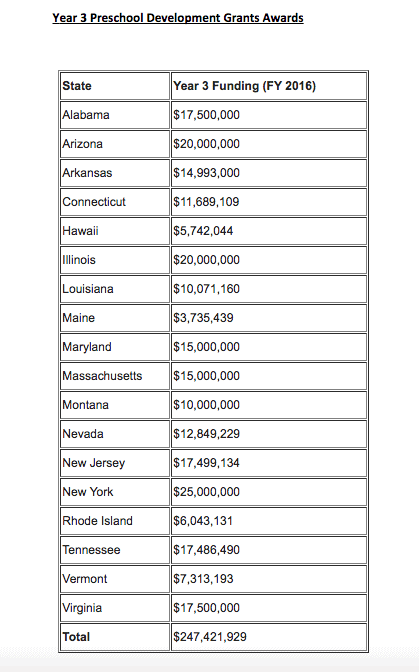 The U.S. Secretary of Education John B. King Jr. announced today that 18 states will receive more than $247.4 million in awards under the Preschool Development Grant program to expand access to high-quality preschool for children from low- to moderate-income families. Is your state on the list?
This is the third year of preschool grant awards under this program. So far, it has invested $750 million and expanded access to new high-quality preschool classrooms, or improved classrooms, in 230 high-need communities. Last school year, more than 28,000 children from under-resourced families had access to high-quality early preschool through the program. This year, another 35,000 had the chance to enroll.
"High-quality early education gives children the strong start they need to succeed in kindergarten," said U.S. Secretary of Education John B. King Jr. in a press release. "The Obama Administration has made great progress in providing access to high-quality early learning, but we must do more. All of our children—regardless of socioeconomic status, race, language spoken at home, disability or zip code—deserve the kind of high-quality early learning opportunities that will prepare them to thrive in school and beyond."
The department also released a national report and 18 state progress reports on the PDG program, detailing how states are meeting the high-quality standards and improving access to early learning for under-resourced children. Classrooms improved by supporting well-qualified and compensated teachers, expanding to full-day, reducing class size or child-teacher ratios, providing evidence-based professional development, and providing comprehensive services.
High-quality preschool helps create the foundation for children to thrive in school and in life. Studies show that children who participate in quality preschool programs are more likely to graduate from high school, grow up healthy, avoid involvement in our criminal justice system, and find good jobs. In Utah, the state funds Waterford's UPSTART program as an at-home solution to prepare thousands of children for kindergarten each year.