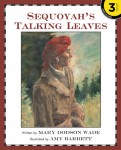 Sequoyah's Talking Leaves is a history of a Cherokee man who created the Cherokee alphabet. Sequoyah first saw writing when a soldier read from a paper. The Cherokee people called such papers "talking leaves" because they were filled with marks that told the soldiers what to say.
The Cherokee didn't have talking leaves of their own because their language didn't have any writing. Sequoyah wanted his people to have talking leaves too.
Eventually, Sequoyah married and had a family. But he never stopped thinking about the talking leaves. He worked to create writing for the Cherokee language through thinking up symbols. But it was hard to think up pictures for words such as "good."
Then one day, Sequoyah saw a children's book in English. From the book, he learned that he could make symbols for the sounds in language. With the help of his daughter, Sequoyah created the Cherokee alphabet made up of 85 symbols.
Sequoyah's Talking Leaves takes readers through Sequoyah's determination and journey to create a written language for his people. Sequoyah became a hero of the Cherokee people and received a medal from the United States President.
A fun book that teaches important history and life lessons, Sequoyah's Talking Leaves was written by Mary Dodson Wade and illustrated by Amy Bates. This book, along with many other adventures, is found within Waterford Early Learning™ software.